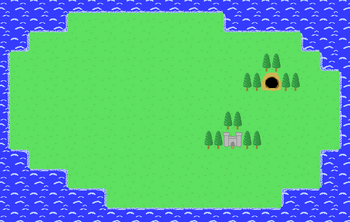 This island, on the other side of the world from Jagaimo, can be reached immediately after buying the ship from the pirate. The 2nd cave is located on this island. This cave begins testing kana players on the first 100 Kanji, or it tests non-kana players on the next 100 Kanji.
Important Items
Edit
In addition to large amounts of gold, this cave contains Artifacts which is required in order to find a later island and continue the story. This island will disappear after saving the Princess so it is important to get this Artifacts before saving the Princess. If you did not get the artifacts, talk to the girl with green hair next to the king on Jagaimo Island to receive them.
There is also 6,601 Gold to find.
Second Cave
Edit
This floor contains:
This floor contains:
This floor contains:
This floor contains: